Stauffer/Nicolet Split Second Chronograph
The Dial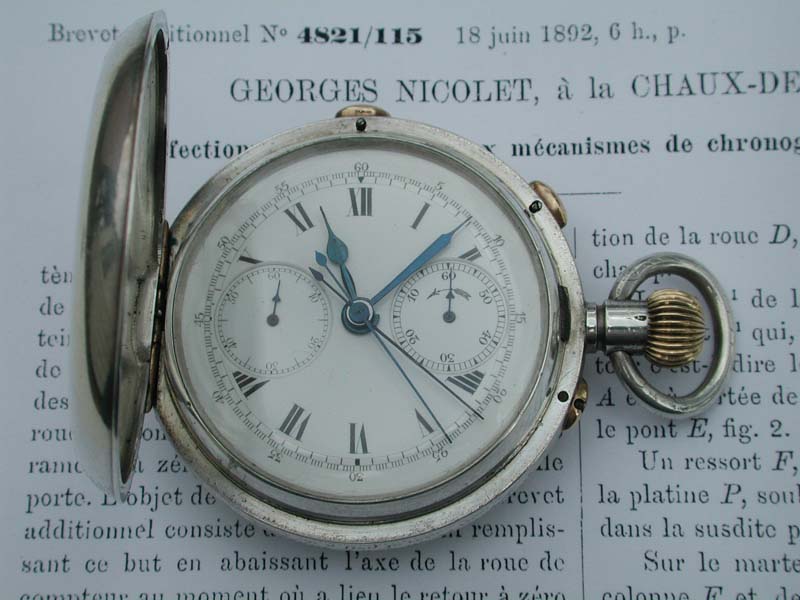 The Movement
The image below shows "Stauffer" and "Peerless" engraved on the bridges, whereas both "SWISS" and the Swiss patent symbol and the Patent number "4821-115" have been stamped on the movement.
Georges Nicolet's Patent number 4821/115 details are here:
Page 1
Page 2
Page 3 (Drawing)

Engraving
I've photographed both "Stauffer" and "Peerless" (Nikon 990 digital with a 10X loupe over the lens) and they certainly look like they were made with an engraving machine, rather than a graver at the turn of the century.

This does raise a further question. Has the watchmaker/owner gone down the same path of discovery about Nicolet/Stauffer/Peerless to get the information and then engraved them on the bridges or is the information on the dial side of the movement which has then been transfered to the bridges? I think the later is more likely. The dial may be coming off more quickly than I had planned.
Last Service?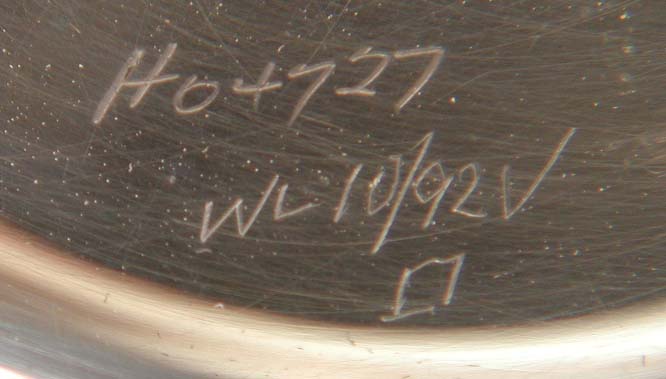 Hallmarks
Historical Data
Stauffer, Son & Co. La Chaux de Fonds
Trade marks: "S" on a cross (1880); " S. & Co" with a crown in an oval (1880); "S.S.C." in a shield (1880); "Stauffer Chaux de Fonds" (1880); "S. S. & C." in a shield (1880); "S. S. & Co" with three triangles (1886); "ESS" on a boat with an anchor and garland (1887); "The 'Atlas' Watch" (1892); "STAUFFER Cx-DE-FONDS" in a frame (1895); Themis (1897); "Decigraph" (1904); "Stauffer Fils & Cie, La Chaux-de-Fonds (Suisse)" (1912)

If you have access to this book it provides a good history of the firm (along with many, many others).

From - Prichard , Kathleen H., 'Swiss Timepiece Makers 1775 - 1975', National Association of Watch and Clock Collectors, Inc.


"Stauffer, Son & Co was founded in 1830 in Chaux de Fonds, Switzerland. By 1860 they were trading as a partnership (Jules Stauffer and Francis Claude) at 12 Old Jewry Chambers, London EC. Stauffer subsequently retired with his place being taken by Charles Nicolet. They were listed in Directories at this period as wholesale watch manufacturers and importers. Claude retired in 1874 leaving Nicolet to take control of the firm. The Watchmaker Jeweller and Silversmith reported on the watches, chromometers and repeating watches exhibited by them at the Inventions Exhibition of 1885. They moved to 13 Charterhouse Street, Holborn, London EC in 1887."

From - Shenton, Alan. 'Pocket Watches - 19th & 20th Century', Antique Collectors' Club, 1995, page 288.


"At Messrs Stauffer, Son and Co, 'Atlas' watch factory in the Jura in 1885 there was a 30-horsepower steam engine, gas lighting, a winter heating boiler and 300 machines producing 60,000 watches per year. (This factory was six times the size of the 'average'.) A new building had electric lighting. There were fourteen workshops, some for forges and presses, each press making 1,800 items in a ten hour day. In other workshops, machines were used for gears and wheels. Pivoting was done seperately (possibly after automatic roughing out). Cases were made at the factory and all machines were specially made on site (it is however likely that automatic lathes would have been bought rather than made, for these were available in Switzerland). The parts were assembled and went to the finishing and adjusting departments from which the watch emerged ready to be worn."

From - Lecluse, J. 'Machine Watchmaking in Switzerland', HJ, 28, September 1885, 14-5. Reproduced in Cutmore, M, 'Watches 1850 - 1980', David & Charles, 2002, page 61 .


Update April 2004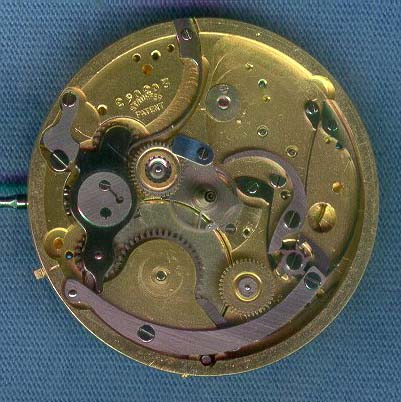 The dial side of the watch is stamped with the serial number "203063" (the same as the case number), "Stauffer" and "Patent" and it would have been this information that led to a watchmaker engraving "Stauffer" and "Peerless" on the bridges detailed above.
The question that remains is - did Stauffer/Nicolet manufacture the chronograph movements or were they made by another company? Clearly, the chronograph mechanism complied with the Georges Nicolet patent and Stauffer did have manufacturing capabilities but they also sourced movements from the International Watch Co. IWC were not a manufacturer of chronograph movements so they could not have been the source. I'd like to think that Stauffer/Nicolet were the manufacturer but much work remains to prove it.
Cheers from the cellar


---