Stauffer, Son & Co. - BEWARE!
Sometimes watches are advertised for sale with the seller indicating that the watch is marked "SS & Co." with the threes triangles (a Stauffer trademark). Stauffer, Son & Co produced movements in their own right as well as they sourced a smaller number of movements from IWC and possibly from other watch companies. The seller sometimes indicate that these markings mean the watch was produced by the International Watch Company. The International Watch Company's web site (www.iwc.ch) states, "From 1894 the London branch of this Anglo-Swiss firm was supplied with watches from Schaffhausen, and from 1898 the movements of these bore the mark 'S & Co.' under the crown with the words 'peerless' and 'Swiss made'." I have not seen the markings in the above image on an IWC movement and I believe that IWC movements sold by Stauffer were only marked "Peerless" and the watches also has plain dials ie. they were not marked with "International Watch Company" or "IWC".

Despite correspondence with the sellers of the above watches they continue to sell them to unsuspecting or uninformed collectors.
Collectors buy them at their own risk and I will not buy ANY watch from those selling such watches.

The following is NOT an IWC movement: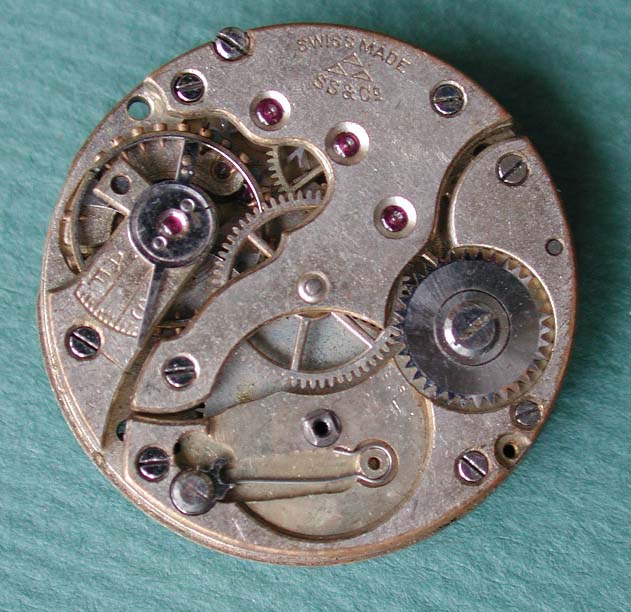 Quite a few IWC movements can be found in Fournitures No. 7 and for collectors seeking further details, I strongly recommend searching the IWC Collectors Forum and the archive on the IWC web site.

The following software is available to date IWC movement production - Date Your IWC. At the very least, check an advertised movement using this program to get the calibre (e.g. Calibre 64) and then compare the calibre shown by the seller with that shown in Fournitures No. 7. If you have doubts, ask a question on the IWC Collectors Forum on the IWC web site.
Historical Data
Stauffer, Son & Co. La Chaux de Fonds
Trade marks: "S" on a cross (1880); " S. & Co" with a crown in an oval (1880); "S.S.C." in a shield (1880); "Stauffer Chaux de Fonds" (1880); "S. S. & C." in a shield (1880); "S. S. & Co" with three triangles (1886); "ESS" on a boat with an anchor and garland (1887); "The 'Atlas' Watch" (1892); "STAUFFER Cx-DE-FONDS" in a frame (1895); Themis (1897); "Decigraph" (1904); "Stauffer Fils & Cie, La Chaux-de-Fonds (Suisse)" (1912)

If you have access to this book it provides a good history of the firm (along with many, many others).

From - Prichard , Kathleen H., 'Swiss Timepiece Makers 1775 - 1975', National Association of Watch and Clock Collectors, Inc.


"Stauffer, Son & Co was founded in 1830 in Chaux de Fonds, Switzerland. By 1860 they were trading as a partnership (Jules Stauffer and Francis Claude) at 12 Old Jewry Chambers, London EC. Stauffer subsequently retired with his place being taken by Charles Nicolet. They were listed in Directories at this period as wholesale watch manufacturers and importers. Claude retired in 1874 leaving Nicolet to take control of the firm. The Watchmaker Jeweller and Silversmith reported on the watches, chromometers and repeating watches exhibited by them at the Inventions Exhibition of 1885. They moved to 13 Charterhouse Street, Holborn, London EC in 1887."

From - Shenton, Alan. 'Pocket Watches - 19th & 20th Century', Antique Collectors' Club, 1995, page 288.


"At Messrs Stauffer, Son and Co, 'Atlas' watch factory in the Jura in 1885 there was a 30-horsepower steam engine, gas lighting, a winter heating boiler and 300 machines producing 60,000 watches per year. (This factory was six times the size of the 'average'.) A new building had electric lighting. There were fourteen workshops, some for forges and presses, each press making 1,800 items in a ten hour day. In other workshops, machines were used for gears and wheels. Pivoting was done seperately (possibly after automatic roughing out). Cases were made at the factory and all machines were specially made on site (it is however likely that automatic lathes would have been bought rather than made, for these were available in Switzerland). The parts were assembled and went to the finishing and adjusting departments from which the watch emerged ready to be worn."

From - Lecluse, J. 'Machine Watchmaking in Switzerland', HJ, 28, September 1885, 14-5. Reproduced in Cutmore, M, 'Watches 1850 - 1980', David & Charles, 2002, page 61 .