Instrument Modification No. 2.60/2
The title of this document is "Directorate Technical Services - Publication of Technical Order - Avon Modification No.2 60/2 - Watches Navigation Mark 11 - Improved Pendent Sealing" it is in series A705 - A705/1, Item 150/8/1592 and the full document is available from the National Archives of Australia.

This modification was to the Royal Australian Air Force (RAAF) Mark 11 manufactured by Jaeger-Le-Coultre (JLC) with additional modification to the Mark 11 manufactured by the International Watch Company (IWC).

The modification, dated October 1959, was undertaken to improve the pendent sealing on the Mark 11 and consists of:

1. Watches manufactured by JLC – fitting a new winding button and pendent, Stores Reference G6P/506300, and
2. Watches manufactured by IWC – fitting a new winding button and pendent , also Stores Reference G6P/506300 and a new winding stem, Store Reference G6BB/501114

To accommodate the new winding stem the IWC Mark 11 case was drilled with a 1.7mm drill as can be seen in the following extract: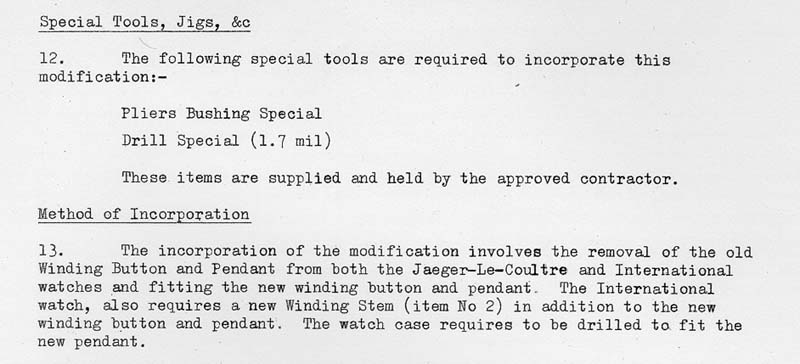 The civilian contractors, who serviced the Mark 11, undertook the modification during routine servicing.
There is no indication as to the source of the parts.

Cheers from the cellar

A link to: Royal Australian Air Force Watches